Each year many people choose to visit the state of Florida by getting behind the wheel and driving to a sunny destination in the state. One of the benefits of driving is that your trip can be very scenic and an experience in itself, with the palm trees around you and deep blue clear skies above you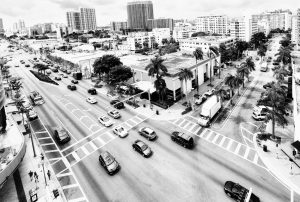 .
If you are going on a single-destination vacation, such as Disney Parks in Orlando or Miami Beach, you will be able to get around without a car because of the public transportation. However, if you need to get around different places of interest, a car is the best way to get there. For example, Miami Beach has an excellent public transportation system, including a city bus, buses that connect Miami Beach with the rest of the Miami-Dade county and even a bicycle program. However, even getting from Miami Beach to the neighboring county up north, Broward County, can be a challenge without a car.
The fact that getting around Florida by car is very easy and straightforward doesn't mean that it is going to be fast. For example, the distance between Jacksonville and Key West is 542 miles, which is quite a long drive.