Miami is the county seat of Miami-Dade County. The city is the eighth largest urban area by population in the United States. The population that lives in metro Miami area amounts to about 5.5 million.
Most of the western parts of the county are undeve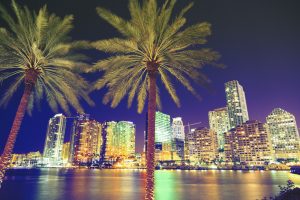 loped. In contrast, the coastal zone on the Atlantic Ocean has so many residents that there are two area codes in the county, 305 and 786.
Most of the high-rises in Miami are located in the downtown area of the city. Some parts of Miami are located on the islands connected to the mainland by bridges that in Florida are called causeways.
The city of Miami consists of four quadrants. The quadrants are Northwest or NW, Northeast or NE, Southwest or SW and Southeast or SE. In the center of the quadrants is the intersection of Flagler Street and Miami Avenue. Most of the streets have numeric numbers and a NE, NW, SE or SW destination identification.
The city of Miami Beach is smaller and has an easier layout. The southern tip of the island has the First Street and the street numbers increase going north.