If you want to visit the state of Florida on a budget, you need to plan for a vacation that you can afford. The state has countless options, from Ritz-Carlton hotels to very cheap hostel accommodations, available to everyone. There are millions of tourists visiting the state every year. Hotels and resorts
compete for visitors and this means that there's something for every budget and bargains do exist.
If you are traveling to the state by air, compare the rates for different days of the week. Tuesdays and Wednesdays are often the cheapest days to travel. Fridays and Saturdays can be twice as expensive.
Next, consider visiting the state of Florida during off season. The non-peak times are October, November, April and May. During these months many hotels offer significant discounts, sometimes as much as 40% off. These months are the best for traveling to Florida if you are looking to avoid crowds and save some money too.
If you want to visit attractions, start looking into package tours. Bundles that include airfare, a hotel, a rental car and attraction tickets are often much cheaper when you buy them on one website or from one travel agent. Even if you want to buy your airfare with frequent flier miles or have bonus points that you can use to pay for a rental car, you still want to take a look at various bundles. Some of them don't have airfare. Some don't include car rentals and so on.
Always ask about discounts during your trip. Many parks offer a discount to AAA members or AARP members. Your trade union, your company and other grounds may be a reason for getting a lower rate for everything and anything from hotel rooms to meals in restaurants.
Many of the hotels in Florida have rooms with great views, especially when it comes to waterfront resorts. Rooms with great views are the most expensive. If you are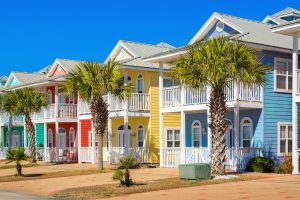 trying to save some money, there's no reason for you to get such a room, especially if you have a packed schedule and don't plan to be spending much time in your hotel anyway.
When renting a car, do not get a gas guzzler. Even a sportscar such as Ford Mustang, which is a very popular rental car in Florida, doesn't offer great mileage. Get an economy-size car: it won't cost much and will save you money on gas, too. The only exception is when you are traveling with kids or a large family. In this case, you probably need a lot of space for people and luggage and a big sports utility vehicle does make sense.
Finally, get the free visitor magazines at the rest areas on the highways and at the visitor centers in various counties and cities. These magazines would typically have detailed maps, directories and plenty of discount coupons that you won't find anywhere else.