Miami is considered to be the unofficial capital of this part of the state. The city of Miami and the neighboring city of Miami Beach, especially the neighborhood of South Beach in Miami Beach, are known for their nightlife.
The biggest event in Miami that draws nightlife fans from all over the world is Ultra Music Festival. The festival is an annual outdoor event that occurs every March at Bayfront Park in downtown Miami.
Ultra Music Fe
stival was created in 1999. Its name comes from the 1997 album by Depeche Mode. From 1999 to 2006 the festival was a one-day festival. Its duration was then changed to two days and it became an all-weekend event. Starting from 2011, Ultra Music Festival has been lasting for three days a year. In 2016, 165,000 people came to Miami to attend the festival.
The most well-known architectural masterpieces of South Florida are Villa Vizcaya and Coral Castle.
If you are interested in animals, you should definitely visit Miami's MetroZoo and Miami Seaquarium.
Metro Miami area has a population of over five million people. Being a somewhat large city, Miami is not the cheapest destination in Florida that you can go to. It also has a number of issues that most big vibrant cities in the United States have, including traffic, pollution and crime.
Things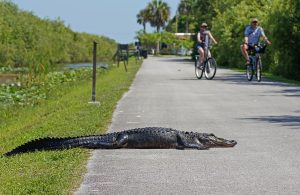 are very different in the Florida Keys. There is only one road that you can take to get to Key West. This highway stretches from the mainland through the Keys for about 110 miles.
The Keys are perfect for you if you want a lazy, chill atmosphere with no dress code. Water sports play a very important role in the life of the Keys. The area also has some historical attractions, including the Audubon House and the museum of Ernest Hemingway.
South Florida is also home to a part of the Everglades National Park, which is the biggest tropical wilderness area in the United States. There are only two parks in the lower 48 states that are larger than the Everglades National Park, and they are Yellowstone National Park and Death Valley National Park.
Palm Beach is the home of some of the richest and most famous Americans. The biggest home in Palm Beach is the Mar-a-Lago estate that belongs to none other than Donald Trump.